It doesn't get much better than this, and Synergy Pharmaceuticals (SGYP) remains a favorite PropThink idea. The company's lead drug candidate, plecanatide, has demonstrated strong safety and efficacy results in a 951-patient clinical trial, there's a path to FDA approval, and the company is trading at a fraction of the value of its closest competitor, Ironwood Pharmaceuticals (IRWD). Once approved, plecanatide will likely have a number of commercial advantages over Ironwood's Linzess (linaclotide): specifically, much lower rates of diarrhea, a prohibitive side effect. While Linzess has beaten plecanatide to the market by about three years, Ironwood and partner Forest Labs (FRX) will do all of the heavy lifting, spending significant marketing and promotional resources to penetrate the market. Both Linzess and plecanatide are guanylate cyclase-C (GC-C) agonists, the only two drugs in a new class of compounds for the treatment of chronic idiopathic constipation (CIC) and irritable bowel syndrome with constipation (IBS-C). In fact, Ironwood's just-announced ~$140M capital raise evidences the promotional spend necessary to plow the ground for uptake of GC-C agonists. By the time plecanatide is ready to launch, physicians and patients will be well aware of this class of drugs and ready for a next generation product. The medical community is just learning about plecanatide, and the late-breaker presentation today at the annual Digestive Disease Week meeting (DDW) in Orlando Florida was well-attended and went a long way toward raising the drug's visibility with clinicians. And we suspect more market buzz will be generated when new clinical sites are brought on to conduct Synergy's Phase III trials for plecanatide later this year.
An estimated 50 million Americans suffer from CIC and IBS-C, and this potential blockbuster drug category should be on the radar screen of larger drug companies in search of new late-stage assets. We highlight some important themes for plecanatide at the DDW meeting and also revisit key points on SGYP as an investment opportunity. Shares of Synergy suffered after a fumbled capital raise (see prior story here), but the company's balance sheet is now in stellar shape with over $100 million in cash. This situation, in our view, presents investors with an opportunity to own the stock, with Wall St. analyst price targets averaging $14.70 per share (nearly a triple from here). Given this relatively low-risk/high reward story, we expect shares of SGYP to at trade back towards their recent highs in the near-term as healthcare investors dig into the story.
Crowd gathers around plecanatide presentation at DDW.  Data from the 951-patient Phase IIb/III trial for plecanatide was presented by gastroenterologist and key opinion leader Dr. Phil Miner (Oklahoma University). The room for the late-breaker presentation was full, and a number of physicians that we spoke with were just learning about this new compound and were optimistic about its potential. The plecanatide presentation ended with strong applause before the room emptied by about two-thirds, suggesting that the interest in Synergy's lead drug is high in the gastroenterology community. We spoke with Dr. Miner after the presentation, who noted that the GC-C mechanism could be very important, and is in the initial stages of understanding the implications in treating many GI diseases. Dr. Miner noted that this drug class has the potential to evolve like the H2 antagonist class (Tagamet/Zantac) or proton pump inhibitor class (Prilosec/Nexium), blockbuster drug categories that evolved to treat various GI conditions in large numbers of patients.
The dose response curve for the drug is impressive, and in the graphics below (from Tuesday morning's presentation), one can see consistency as the plecanatide dose is increased.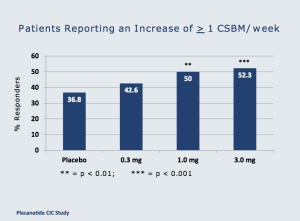 Additionally, nearly 70% of patients treated with 3mg plecanatide experienced a spontaneous bowel movement (SBM) within 24 hours of taking the first dose. This is, of course, important for patients presenting with CIC.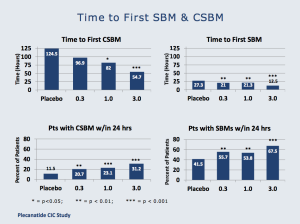 A 9.7% rate of diarrhea and 3% discontinuance for severe diarrhea with plecanatide compares very favorably to Linzess' 16% rate and 8% discontinuance for severe diarrhea as seen in the drug's FDA approved label. Importantly, doctors believe that the rate of severe diarrhea with Linzess is higher in the real world vs. the clinical studies, but were not too worried given that alleviating constipation is the primary focus when treating a patient. However, an alternative therapy that has lower incidence of diarrhea like plecanatide would certainly be welcome, as patients will be more likely to stay consistently on treatment.
Controversial Q&A session highlights interest in plecanatide; IRWD takes a swipe. Three questions were asked after Synergy's presentation, including one from a representative of Ironwood asking to see data that was not part of the official presentation. The slide, on relief of bloating associated with CIC was quickly shown, but was not an approved slide (projector error led the speaker to use a different SGYP presentation). The Ironwood rep argued that the slide should be reshown but the speaker refused. Importantly, IRWD's interest in plecanatide is clear; this drug is seen as serious competition, and this competitor is digging for all the data it can find to try to quell interest. As a result, we believe this will have an opposite effect. Another question focused on the diarrhea side effect, and questioned whether higher diarrhea is needed for higher efficacy. Plecanatide does appear to have a dose-response effect on diarrhea rates (the 3mg strength has the highest rate), but the rate of discontinuation at 3mg was similar to the 1mg dose (3.0% vs. 3.4%, respectively). In our view, this question highlighted that the diarrhea side effect is important to physicians treating CIC or IBS-C, and good efficacy with lower diarrhea is optimal. Plecanatide seems to be the best positioned drug to fill that role. The last question was on the clinical significance of the data presented on plecanatide, and the speaker noted that the data were not only highly statistically significant, but also were clinically meaningful. The high rate of complete spontaneous bowel movements (CSBMs) across all of the doses (highest at 3mg) evidences that plecanatide is an effective drug that produces clinically meaningful results.
Now that the full data set has been presented, we expect analysts to conduct physician calls to gauge enthusiasm for plecanatide and to get physician opinions on the competitive profile relative to Linzess, as well as the overall market opportunity. Such calls are likely to support SGYP shares, and could be value-creating events for the stock.
Off-label use in OIC detected with Linzess at DDW, suggests larger market opportunity for both Linzess and plecanatide. At the DDW conference, physicians we spoke with noted that they have tried, or are likely to try Linzess off-label to treat opioid induced constipation (OIC), which is intuitive given its mechanism to mobilize fluid into the gut to alleviate constipation. It also makes sense, given that Sucampo's (SCMP) Amitiza product, initially approved for IBS-C and CIC, was just approved for OIC. Physician investigators also indicated a high level of interest in participating in trials with the GC-C agonists to treat OIC. Note that the GC-C agonists, Linzess and plecanatide, look very safe and tolerable, and while Linzess may exert severe diarrhea side effects in some patients, Amitiza has caused nausea and vomiting in 30%+ of patients. Additionally, doctors are simply not that impressed with Amitiza's efficacy, however, it's currently the only game in town for OIC. As a result, we expect off-label use of Linzess in OIC to increase, and plecanatide, with arguably the best tolerability profile in the class, is likely to exploit this opportunity as well once on the market. Given that opioids are among the largest categories of drugs dispensed in the U.S. and chronic use of these pain medicines in arthritis and back pain patients is commonly associated with constipation, analysts estimate that the OIC indication has billion-dollar market potential as well. According to Sucampo, there are 3 million patients in the U.S. on chronic opioid therapy, and roughly 80% experience OIC. It's a large market opportunity that is not being modeled into expectations for plecanatide. We believe that a potential OIC indication for plecanatide means that current sales estimates for the drug could be too low. This could translate into an even higher valuation for SGYP should a large drug firm step up to acquire the company.
Several presentations at DDW support the growing IBS-C and CIC treatment market. A number of presentations at the DDW meeting in Orlando this week addressed disorders associated with constipation and offered evidence that the market for drugs to treat these disorders is increasing. We highlight two presentations below that apply to both plecanatide and linaclotide (Linzess), in which the room was crowded with conference attendees.
Alterations in the Guanylate Cyclase-C/cGMP Pathway in Patients With Irritable Bowel Syndrome With Constipation. Andrea M. Harrington1, Joel Castro1, Richard L. Young1, Caroline B. Kurtz3, Ada Silos-Santiago3, Nam Q. Nguyen, Jane M. Andrews, Stuart M. Brierley.  
Notably, this presentation was given by Stuart Brierley, a key opinion leader in the gastro space, and focused on the major pathway that is relevant to both plecanatide's and linaclotide's mechanism of action. Dr. Brierley noted that the GC-C/cGMP signaling pathway is considerably reduced in patients with IBS-C compared to healthy subjects. These findings imply that normal functioning of GC-C signaling is critical for GI physiology, and disruption of this signaling can lead to GI disorders such as IBS-C and CIC. While the presentation focused on linaclotide's GC-C agonist properties, plecanatide may be a more natural way to treat these disorders as it is an analogue of uroguanylin, not an enterotoxin analogue like Linzess (linaclotide is an analogue of the diarrhea-causing toxin produced by E-Coli). Importantly, normalizing GC-C signaling may lead to more normal bowel function, and the physician community is beginning to pay closer attention to this treatment pathway.
State of the Art: Are We Any Closer to Understanding the Pathophysiology of IBS.  Giovanni Barbara
This presentation was impressively well attended despite being the last session of the day on Monday. The symposium consisted of presentations on the pathophysiology of IBS, and Dr. Barbara Giovanni discussed the critical roles of immune function and inflammation in the etiology of IBS. Plecanatide has been shown to have potent anti-inflammatory properties in several animal models, and given the strong interest in this presentation, plecanatide's profile is likely to be attractive to physicians treating IBS and other bowel disorders.
Linzess launch ramp can provide catalysts for SGYP longer-term. Doctors we spoke with at the DDW meeting like Linzess, albeit a product with less diarrhea and similar efficacy would be preferred. Nevertheless, we believe Linzess has the ability to become a blockbuster drug. The best precedent was Zelnorm, which was removed from the market in 2007 by its innovator, Novartis, for safety reasons, but was poised to achieve nearly $700 million in sales in IBS and CIC after only a couple of years on the market. Based on current prescription data, the launch ramp for Linzess is tracking similarly to initial Zelnorm prescriptions, despite Ironwood missing expectations in 1Q 2013. Ironwood reported Linzess sales in 1Q 2013 (the drug's first full quarter on the market) at $4.4M vs. Wall St. consensus expectations of $12M, however, it seems it was not demand that caused the disappointment, but the flow of inventory with wholesalers given initial launch quantities of the drug in the distribution channel. Looking at the prescription demand for Linzess in the first quarter and price per prescription, evidence suggests that sales were approximately in-line with analyst expectations. Ironwood reported Linzess sales of $24M net since the product's launch in December of last year, and if one simply divides the $24M in half, first quarter sales of $11-$12M is not unreasonable. Linzess sales are booked as they leave the factory, not as wholesalers sell through to pharmacies. And given that the distribution channel was loaded with initial product in December, it makes sense that little sales were booked in 1Q 2013 as wholesalers sold inventory they already had in 1Q. We note that this is typical of products that are just launched, and this ebb and flow is not unusual. In fact, 2Q 2013 is likely to contain some channel reloading that could mean Linzess sales come in higher than expected. In fact, on Ironwood's 1Q 2013 conference call, Mizuho Securities analyst Mario Corso, said that based on IMS prescription trends and pricing assumptions, he estimated demand in the quarter at $10-$11M – Ironwood management noted that his methods were an "appropriate way to look at it." With that in mind, pharma partners and/or acquirers are likely to be sensitive to Linzess' launch in order to gauge the prospects for plecanatide. Many believe plecanatide's better tolerability profile could render a better launch ramp than Linzess (and we agree), however, the market is likely to see the prospects for these products as similar. The good news is that a strong quarter for Linzess could mean good news for SGYP, and additional good news is that because SGYP's valuation is so much lower than IRWD's there is little risk to SGYP if Linzess disappoints in the next couple of quarters.
Meanwhile, Linzess grew 4.5% in the prior sequential weekly period (one week to the next), therefore the drug is growing at a calculated annual run-rate of 234% based on prescription data (4.5% times 52 weeks = 234%). In our view, this is a respectable growth rate for a drug product in its first year of launch, and at the recent Bank of America conference, Ironwood noted that in April alone, Linzess sales were about $8.5M based on IMS prescription data. This suggests that analyst expectations for 2Q 2013 of between $20M-$26M are achievable, and perhaps beatable, especially if the distribution channel needs some refilling.
Thus far, we are hearing from industry sources that sales reps from both Ironwood and Forest are happy with their progress and ability to meet or exceed their sales plans. Note that IRWD and FRX initially distributed Linzess samples to doctors for one month of use, therefore, prescriptions could catch up once these initial samples are exhausted (one month sampling ended in February). Again, strong Linzess sales will likely drive shares of SGYP higher. We like that kind of risk/reward skew.
SGYP remains the only pure play take-out candidate in the GC-C category. IP agreement with IRWD blocks competition.  Despite the company's patent–license agreement with Ironwood, there's still some investor belief that an intellectual property overhang exists on the stock, thus, the company's plecanatide patents are worth touching on. The patent deal with IRWD, announced in September of 2012, actually blocks other companies from entering into the GC-C agonist segment and competing in the key IBS-C or CIC indications, or any other inflammatory GI diseases or cancers with the technology. As a result, for large companies hoping to enter this drug class, SGYP is the only asset available for acquisition or partnering and this is why the company is likely to be on analyst take-out lists this year. Synergy has two patents covering the composition of plecanatide – one is a broad patent covering several analogues of uroquanylin (the parent structure of plecanatide), and the other is a patent covering the specific structure of plecanatide itself. These patents, with Hatch Waxman exclusivity, are expected to expire in 2025, and the company continues to evolve its patent estate.
Plecanatide is an analogue of uroquanylin, with one amino acid different from the active form of uroquanylin. The replacement of aspartic acid with glutamic acid fixes the structure in a rigid (partially closed) state, which was designed to act in the intestine and is more stable and more potent than uroquanylin. This novel peptide structure was also designed for optimum low-cost manufacturing.
Ironwood obtained a patent on the use of plecanatide in IBS-C and CIC after multiple rejections by the U.S. Patent and Trade Office (PTO), but of course, Ironwood cannot sell the product in these indications because plecanatide (its composition of matter) is owned by Synergy. Synergy never applied for this "use" patent, as it believed the chance for issuance was low, and even if issued, the patent might not provide much protection. Nevertheless, Synergy licensed the patent from IRWD in order to cease litigation, but the company reserves the right to challenge its issuance per the license agreement. As a result, Synergy owns its initial composition of matter patents on plecanatide and has complete freedom to market plecanatide in all indications with the benefit of the IRWD license agreement. Should SGYP decide to challenge and successfully invalidate the use of the patent held by Ironwood, it will not be obligated to pay the "low-single-digit" royalty to Ironwood per the license agreement. Either way, Synergy's IP on plecanatide remains strong.